Malaysian Troops, Fighter Jets Attack Filipino Group in Borneo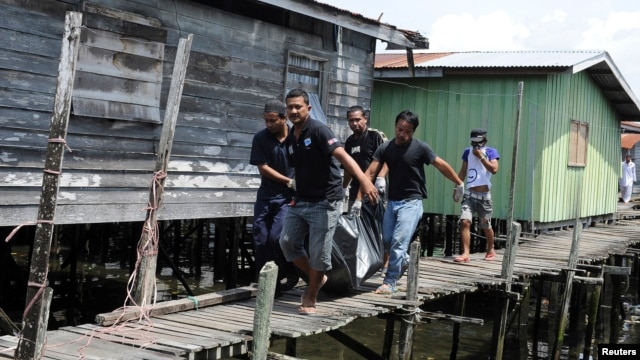 Villagers carry the body of a dead gunmen that was killed on Saturday, Simunul village in Sabah's Semporna district, March 4, 2013.
March 05, 2013
Malaysia has sent fighter jets and troops to secure an area of Borneo Island, where an armed Filipino group is engaged in a bloody standoff with the government over a decades-old territorial claim.
Prime Minister Najib Razak said in a statement that every effort has been made to peacefully resolve the issue, but that the Tuesday raid was necessary "to safeguard the dignity and sovereignty" of Malaysia.
The dispute began in mid-February when around 200 members of the armed group stormed a seaside village and demanded to be recognized as the ancestral owners of the eastern Malaysian state of Sabah.
A shootout erupted Friday leaving 12 intruders and two policemen dead. Since then 19 more gunmen and eight police officers have been killed.
Malaysian fighter jets pounded the area for about 30 minutes on Tuesday, before hundreds of soldiers were sent to the area. It is unclear whether the raid succeeded in clearing the area.
Abraham Idjirani, a spokesperson for the Filipino group, said its leaders had survived the bombardment. He said some were scared, but insisted they would not surrender.
"The truth is, some are scared. Who wouldn't be, given the odds? Two-hundred eleven, against 100,000 plus," he said. "As Malaysian forces fire their guns, in sacrificing their own lives in order to kill them, they [the Filipino group] will get crushed."
The militants belong to the Sultanate of Sulu, a former Islamic power that once controlled parts of Borneo and the southern Philippines. Although the sultanate lost power about a century ago, the group still claims sovereignty over the area, which it says was illegally merged with Malaysia when it gained independence from Britain.
The conflict is Malaysia's worst security crisis in years, and threatens to damage ties with the Philippines.
​​
Manila has urged the group to stop the conflict and return home, warning its members could face prosecution. But it has also urged Malaysia to exercise restraint and not to harm the interests of the estimated 800,000 Filipinos in eastern Sabah state.
James Chin, a Malaysia analyst with Australia's Monash University, says he does not think the issue will severely disrupt Philippines-Malaysia relations. But he also casts doubt on whether the current military action will solve the dispute.
"This is an historical issue, so the solution will have to be political in nature," he said. "The military action now is being done to stop this group, which is using a military means to stake their claims. The idea behind the military action is simply to round up the people with guns and weapons, but it's not going to stop the issue."
On Tuesday, Philippine Foreign Secretary Albert del Rosario was in Kuala Lumpur for talks with his Malaysian counterpart on the situation.
Some information for this report was provided by Reuters.
PET+BLOGSPOT is the ONLINE BLOG of the Malaysian Animal-Assisted Therapy for the Disabled and Elderly Association or Petpositive. Our stories are CURRENT, ACCURATE and RELIABLE. We offer both local and foreign news on animals, disability and the elderly. PET+BLOGSPOT was first established in October 2007. Our hits since then are now 150,000 and ever increasing! PET+BLOGSPOT is updated daily. Kindly note that views expressed in PET+BLOGSPOT are not necessarily those of PETPOSITIVE. You may also visit our Webpage by browsing: www.petpositive.com.my You can also find us in Facebook under PETPOSITIVE EMPOWERMENT. Please sign up as a FOLLOWER of this Blog if you haven't done so already in order to show us your kind support for our work. Thank you!